GUARD TRACKING SOFTWARE
Guard tracking software DEMO.  Or call (800) 825-6858 to see if this is the best guard tracking system and app for you.
Guard tracking software and a real-time, mobile reporting system are a must for any security guard service that hopes to compete in today's market.  Your clients now expect a real-time guard management app and tour system so they don't have to wait days, or weeks, or AT ALL for reports and proof that their interests are secure.  Furthermore, you need GPS guard tracking software to streamline your officer management system; to grow more quickly and efficiently without your daily administrative issues—many of which are crucial to a successful security guard service—falling through the cracks!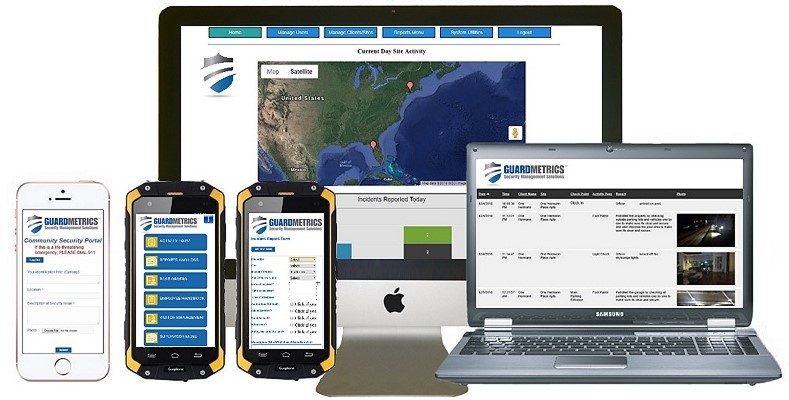 GuardMetrics-PatrolTrack mobile guard tracking software is the perfect solution for a security guard service who seeks an affordable, yet very capable, means to compete.  It tracks your guard tours and patrols receives, and stores, reports from your officers from any smart-device, including their personal devices, if need be.  It is even branded with YOUR COMPANY logo and name.  It also has a couple features that none of the most expensive officer tracking systems can deliver!
Demo GuardMetrics Patrol guard tracking and reporting software!
One of the most unique and dynamic features of the GuardMetrics-Patrol is the Community Security Portal.  This feature allows you to provide a layer of security to your clients that very few competitors can offer, as no other security guard tracking software company that we are aware of offers this!  With over 80% of your competitors offering real-time GPS security guard tracking and reporting software, won't it be nice to include a truly crucial feature to your clients, that only perhaps 1% of the security guard apps can deliver?
Another unique and innovative feature that our clients love, included in the GuardMetrics-Patrol guard tracking software at no additional cost, is the "Task Management Report".  The Task Management Report is a very efficient feature that allows your officers and/or supervisors to submit things like, "Client says I need a new uniform" or "cruiser leaking coolant" or "Officer Smith requesting day off".  These reports then populate a "Task Management Calendar" that your management and admin staff (if you choose) have access to.  They can then update the submissions, move them to a different date for follow-up, close them, or assign them to particular personnel!
Call us to see how the innovative GuardMetrics Patrol guard tracking and reporting software can serve you!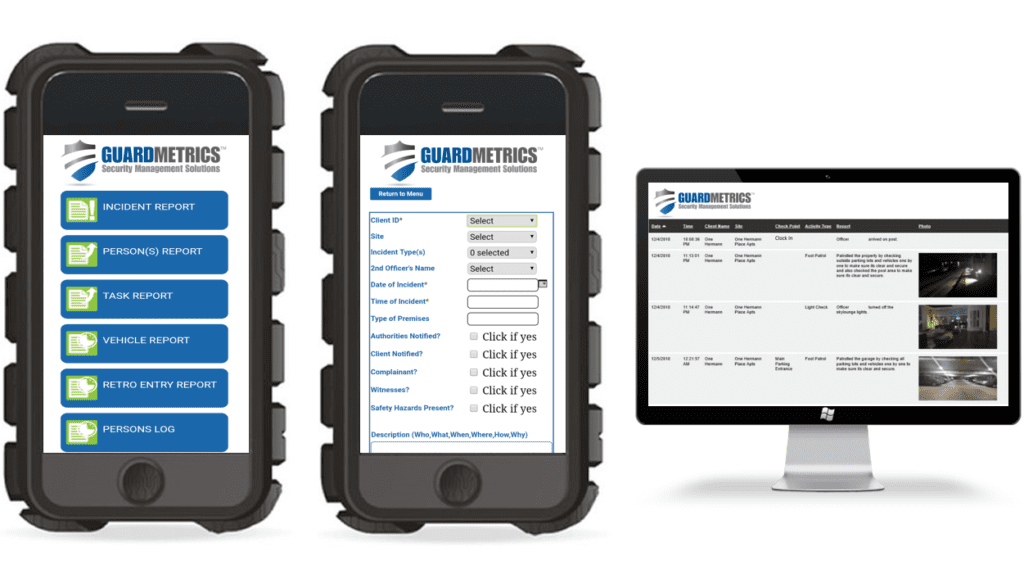 Having been developed by, and with, security guard service veterans, the GuardMetrics-Patrol guard tracking software does all of the things you need a real-time officer management software to do, and it does it all in a very user-friendly manner.  You can have GuardMetrics-Patrol deployed after about 45 minutes of training.
GuardMetrics-PatrolTrack features include, but are not limited to:
Use on ANY mobile smart device (including officer's personal phones)

Branded with YOUR logo and company name

Mobile Daily Activity Reports and

I

ncident rep

orts

with integrated pics and/or video
Scan QR codes, RFID or NFC tags at checkpoints in real-time
Guard patrol and tour tracking

Time-stamp and geo-tagged location with every event

Real-time alerts

Task Management

A "Client Portal" for your clients to view their own reports

Excellent customer Support 

Marketing/ sales assistance

NO contract, so if you try it for a month, and it's not everything you'd hoped, you are not stuck
Click here

, or call,

for a security officer monitoring software app that works on Android, iPhone, Google Phone; ANY smart device, including your officers personal phones.