GUARD COMPANY TOUR SOFTWARE
Guard company tour software DEMO.  Or call (800) 825-6858 to discuss this security officer business tour system & app.

Security guard company tour software should change the whole dynamic of your security officer business for the better.  If you don't have a good guard tour software app solution, with GPS tracking, or if your business has not leaped ahead of your pre-guard-tour-software state, you need to call GuardMetrics.  Our team has been in the field for decades, on your side of the fence, and has developed the GuardMetrics security company tour software based on that experience.
Call us to deploy a high quality guard company tour software app developed by those who know the security guard business.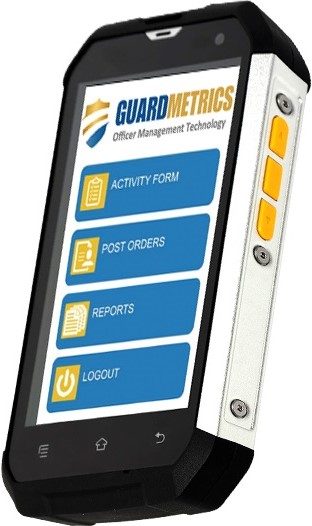 Guard company tour software should make your life easier.  It should be easy to deploy, simple to use, convenient to manage, accurately track your security officers and accomplish everything that you and your clients require. GuardMetrics brings you all that, and much more, with numerous perks including true marketing support, consulting and access to a myriad of services through the GuardMetrics security industry network.
Guard tour software should be affordable.  The GuardMetrics security guard tracking and reporting app is just that because, not only do we price it according to your business model, but we even allow for your security officers to use their own mobile phones for tag scanning and reporting if you wish—iPhone, Android, tablet, laptop, Google-phone, Windows-phone, etc.—for additional convenience and savings.  And it won't cost you in battery or data, because the GuardMetrics guard business tour software has been developed to use the equivalent of a text with each activity or submitted event!
Affordable and rugged guard tour devices and patrol phone options are also available HERE.
The best security guard tour software you can buy should be efficient, simple and affordable.  The GuardMetrics security guard app has been developed by security guard industry experts to be all of that.  You can now have stable, real-time, cloud-based guard company tour software to compete with the biggest players in the field.
And the GuardMetics support team–sales, marketing, networking and consulting experts–view you as a true partner.  We make it our business to make sure that your security company is a success in any and every way we can, even offering bid software to insure your margins.  If you grow, then we grow.  It's such a simple formula, yet so often overlooked or forgotten:  We are on the same team.
Call GuardMetrics any time at (800) 825-6858 to discuss what "partner" and "team" mean to us.